IO-Link Device Tool V5.1 – PE
The IO-Link Device Tool V5.1 - Professional Edition is an IO-Link engineering software for configuring IO-Link masters from different manufacturers and for operating IO-Link devices.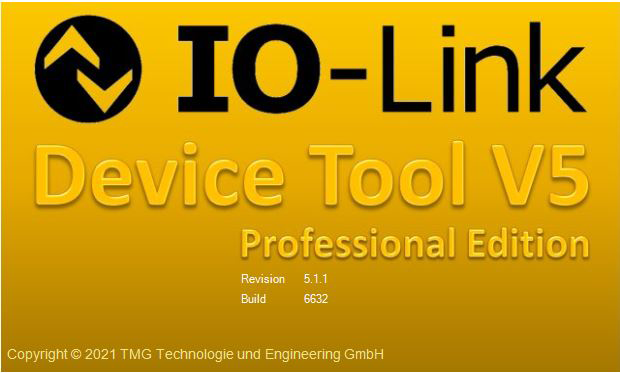 The IO-Link standard is fully supported and all IO-Link compliant devices can be operated. This applies equally to actuators, sensors or mechatronic components.
IO-Link masters can be implemented as a gateway to many higher-level communication systems or as an integral component of other field devices such as valve terminals, drives or controllers. In this case, communication to the engineering tool usually takes place separately to the higher-level communication system. This can be a 2nd channel on the Ethernet, but also a physically separate connection on the device. In addition, there are software interfaces for the integration of device engineering tools in PLC programming systems, such as TIA Portal from Siemens via the Tool Calling Interface (TCI).
Most IO-Link master manufacturers today offer tools that only support their own masters. Although these are often free or cheap, they cannot compete with the functionality and convenience of the IO-Link Device Tool V5.1. The user is also forced to use several tools when using IO-Link masters from different manufacturers. This problem is increasingly growing, as there are IO-Link masters in different designs in the control cabinet or in the field as well as integrated in other devices such as valve terminals, drives or HMIs, and no vendor covers everything. In extreme cases, the user needs different tools to be able to operate one and the same IO-Link device type. The unique selling point of the IO-Link Device Tool V5.1 - PE is to be able to operate all these masters uniformly with just one software.
Supported higher-level
communication systems
PROFINET
EtherNet/IP
Modbus TCP
EtherCAT
PROFIBUS
DeviceNet
CANopen
Further integrations are in preparation. In particular, we are working on a cloud solution that, in addition to the actual cloud functionality such as the provision of sensor and diagnostic data as well as the specification of setpoints, allows device engineering with the IO-Link Device Tool V5.1 - PE via the cloud as a transport medium as well as the configuration of the cloud topics.
Communication of the tool
with the IO-Link masters
Preferably we use a protocol specified by TMG TE (SMI-TCP) that covers all concerns from IO-Link masters up to hierarchical modular design with small protocol volume. The tool has a plug-in interface for further communication drivers, so that other interfaces up to manufacturer-specific drivers can be integrated.
Integration with other
engineering software
The tool can be started both as a stand-alone program and, for example, called via the Tool Calling Interface (TCI) in PLC programming software such as STEP 7 or TIA Portal from Siemens. TCI was specified specifically for PROFINET and PROFIBUS. Manufacturer-specific but similar interfaces have also already been integrated and others can be implemented if required.
Support for masters
of many manufacturers
To support an IO-Link master, there is an XML device description (IOLM) specified by TMG and, depending on the master, additional software components such as configuration dialog and communication driver. These are published in a TMG TE own internet database and can be imported from there similar to the IODDs and the IODDFinder.
We currently support more than 100 IO-Link master types from more than 20 manufacturers: Analog Devices (Maxim), Balluff, Baumer, Belden, Carlo-Gavazzi, di-sonic, elobau, Emerson, Endress+ Hauser, Feig, Festo, ifm*1, Leuze, Molex, Murrelektronik, Parker, P+F, Renesas, Sick, Siemens*1, SMC, Texas Instruments, Turck, Wago, Weidmüller*1, Wenglor and Zimmer. (*1 in preparation)
30 days trial version
Use our engineering tool for 30 days without any restrictions for evaluation.
Use our engineering tool for 30 days without any restrictions for evaluation.
All other functions of the IO-Link Device Tool V5.1 - PE are identical to the Standard Edition.
Master GUI
In order to have the possibility to support manufacturer-specific extensions for masters, we also provide a master GUI interface similar to the one for the devices. With this we create the possibility to make specific settings.
Used for setting, monitoring and diagnosing IO-Link devices
Uses IODD V1.0.1, V1.1
Follows IO-Link and IODD specification V1.1.3
Contains the disclosed Open IO Device GUI interface
Available communication drivers for engineering

TMG-UDP: UDP based protocol
TMG-USB
TCI Communication Server for PROFINET and PROFIBUS
SMI-TCP: TCP/IP based protocol (replaces TMG-UDP for new developments)
PROFINET Device Access
Vendor specific drivers

Main features

Port configuration of the IO-Link masters
Operation of IO-Link devices via IODD
Operation of IO-Link devices via Open IO Device GUI
IO-Link Device Firmware Update
IODD Finder
IODD Viewer
Project management
Online and offline project engineering

All settings can be saved as a project

Parameter
Menu configuration
Scaling of the oscilloscope view
Operating system

Windows 10 64 Bit
Microsoft .Net Framework 4.6.1

Free interfaces

USB 1.1, 2.0 or 3.0 interface
Ethernet network interface

Screen resolution: 1024 x 768 pixels or higher
PC-Software: IO-Link Device Tool V5.1 – PE Software

The software and software updates are provided via download

License key (must be activated via the TMG portal)
Manual (PDF)
Custom (OEM) versions
However, we are also happy to offer licensing of the IO-Link Device Tool V5.1 as a customized OEM variant for your system.
Please ask us about the possibilities and conditions.
IO-Link Device Tool V5.1 – Option IOLS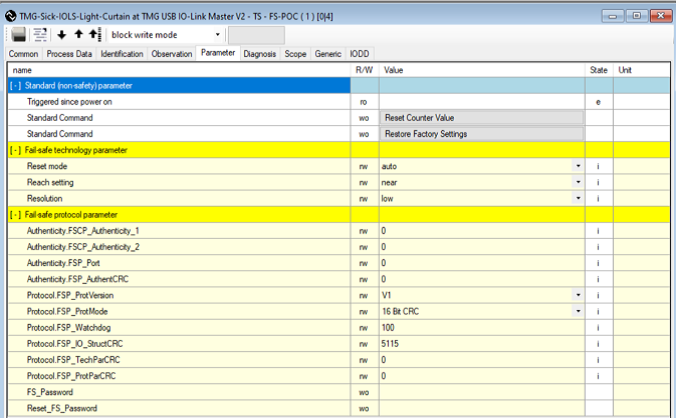 We offer an option package with the support of IO-Link Safety pre-parameterization and Commissioning Mode.
This option package is in preparation insofar as the potentially supported IO-Link Safety Masters are still under development. Today the TMG USB IO-Link Master V2 TS and soon the TMG USB IO-Link Master V2 SE can be operated.
This contains the following features:
IO-Link Safety Device Catalog
Safety process data and parameters highlighted in yellow
Protocol parameters CRC Check
Device Tool Interface (DTI) for IO-Link Safety Dedicated Tools
The IO-Link safety device can be operated in commissioning mode
With the TMG USB IO-Link Master V2 SE/TS also the safe output data can be written to test the safety functionality offsite
IO-Link Safety Extension for the IO-link Device Tool V5.1 - PE
License key (must be activated via the TMG portal)