TMG IO-Link Device Tool V5.1 – SE
The Standard Edition is intended for commissioning as well as for service and sales and includes the TMG USB IO-Link Master V2 SE. All IO-Link devices can be operated regardless of the IO-Link version. The IO-Link and IODD standard are fully supported.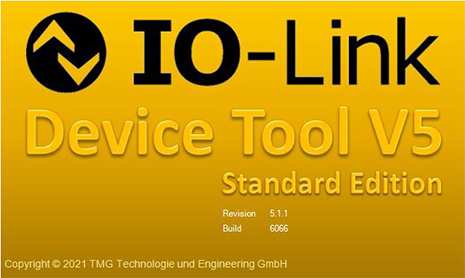 The IO-Link Device Tool V5.1 - SE software is used for setting, monitoring and diagnosing IO-Link devices. It supports the operation of IO-Link devices via IODD. The process data can be displayed dynamically and output values can also be specified. All settings can be saved in projects, which means that this is also available as plant documentation. Parameters can be transferred individually, in a block or all together. Settings for IO-Link devices such as parameter values, expanded or collapsed menus or scaling of the oscilloscope view can be saved on a project-specific basis or for the device type.
All settings can also be made and saved without having connected the physical device or the IO-Link master. (Offline project planning).
The Open IO-Device GUI has been specified by TMG TE and provides a graphical user interface in addition to the IODD table display. This allows even more complex setting procedures to be simplified and clearly displayed. The focus is on user-friendliness, so that parameter values can be adjusted quickly and easily. In addition, the demonstration of IO-Link devices by the sales department can be made more attractive.
Other useful functions are the IODD Viewer, the import of IODDs from the IODD Finder, the Scope function for visualization of process data and the firmware update function for IO-Link devices. The Generic function also allows operation via index and subindex and provides a raw data view.
Note
The IO-Link Device Tool V5.1 - Standard Edition supports only the supplied TMG USB IO-Link Master V2 SE as well as the variants TS and EMC. If you want to use the IO-Link Device Tool V5.1 with other masters also from other manufacturers, we offer the Professional Edition. This is functionally identical to the Standard Edition, but also supports the IO-Link masters of other manufacturers.
In addition to importing from the computer's file system, IODDs can also be imported from the IODD database of the IO-Link community (IODD Finder). If the IODD for a connected device is not available, the IO-Link Device Tool can search for and import the appropriate IODD for you.
The IODD interpreter convinces with a very simple and clear display of the device information as well as with further useful functions. By switching to the corresponding tab, the general information, process data, identification data, parameters and diagnostic data are displayed.
Basically, the IODD is interpreted in such a way that it is as simple as possible for the user to operate and observe. For the PLC programmer, at least for most programming systems, it is necessary to have more detailed information about the structure and addressing of the parameters, process data and diagnostics. For this purpose, the IO-Link Device Tool provides a corresponding view of the IODD.
The process data can be visualized graphically in trend curves using the Scope function. It is possible to display up to 8 elements at the same time. Furthermore, all process data elements can be recorded for up to one day. In addition, each trend line can be assigned a specific color, screen position and scaling for differentiation.
The Generic function enables IO-Link devices to be operated even without IODD. The data is displayed as raw data and addressing is done via index and subindex. In addition, there is a pull-down list with the standard parameters. This means that they can be read and written quickly and easily without tedious looking up in the specification or manual. Im Falle, wenn keine IODD vorhanden ist, erscheint im Tool nur der Reiter "Generic". Ansonsten ist er als Ergänzung vorhanden, was insbesondere für den SPS-Programmierer nützlich sein kann, da hier oft Index- und Subindex-Adressierung verwendet wird und die Rohdaten helfen, Fehler zu finden.
Im Ausgabefenster des Reiters "Generic" werden auch die Port und Device Diagnosen (Events) angezeigt.
With the Open IO Device GUI it is possible to add a graphical user interface to the tables of the IODD view with simple means. This is especially helpful for the distribution of the devices. Graphical user interfaces can then be created very easily in VB.NET or C# according to your own wishes. We provide the specification with sample projects free of charge.
IO-Link has a firmware update profile that can be used to update the firmware of IO-Link devices in a standardized manner. This functionality is supported by the IO-Link Device Tool V5.1. There is also an import function that can be used to read firmware packages into the tool's internal database. In the device interface, there is then an additional tab for the firmware update function. If the firmware package contains a new IODD, this is automatically imported and assigned to the device after the update. The firmware update function is available for all supported IO-Link masters.


For the development of the devices, TMG offers a packager for its stack customers, which packages and encrypts the firmware. This packager uses the information of the IODD, so that most of the information is already consistently available. In case a new IODD is required after the firmware update, it is packaged as well. The Packager can be used with the Windows user interface or integrated into the firmware generation via the command line.
TMG USB IO-Link Master V2 SE

Connect your IO-Link device easily with the included TMG USB IO-Link Master V2 SE. All IO-Link devices can be connected regardless of the IO-Link version. The IO-Link master has three LEDs that indicate the status and SIO mode. The IO-Link devices are connected via the M12 connector. Pin 2 can be used both as SIO mode and as a second IO-Link channel when using a Y-cable (cable not included). IO-Link devices with low current requirements (up to 80mA) can be operated without an external power supply, otherwise the supplied external power supply 24V/1A must be connected.
Used for setting, monitoring and diagnosing IO-Link devices
Uses IODD V1.0.1, V1.1
Follows IO-Link and IODD specification V1.1.3
Contains the disclosed Open IO Device GUI interface
Convenient list view

Headings or menus can be minimized

Online and offline project planning
All settings can be saved as a project

Parameter
Menu configuration
Scaling the oscilloscope view

Other functions:

IODD Viewer
IODD Finder
IO-Link Device Firmware Update
Process data Scope
Generic Dialog
Suitable for IO-Link version V1.0 and V1.1 devices
Master cycle time at COM3 400µs
Port class A
Protection class: III ( operation on safety extra-low voltage)
Electric connections:

USB (Mini USB B, TYP 2.0)
Socket, M12

Pin 2 can be used both as SIO mode and as a second IO-Link channel when using a Y-cable. This is not included in the scope of delivery.

24V socket for hollow plug of the power supply unit

Power supply:

With supply from USB (5 V / 500 mA)

24V 80 mA for the IO-Link device

When supplied with the included plug-in power supply unit

24 V / 1 A for the IO-Link device

Environmental conditions:

Operating ambient temperature: 0 … +45 °C
Protection type: IP 20

Dimensions with/without M12: L x H x W 70/55 mm x 24 mm x 40 mm
PC software: TMG IO-Link Device Tool Version 5.1 - SE

The software and software updates are provided via download.

TMG USB IO-Link Master V2 SE
Plug-in power supply 115/230V - 24V (1A) with international adapters
USB A to USB Mini cable (length: 1m)
Quick Reference Guide
Operating system

Windows 10 64 Bit
Microsoft .Net Framework 4.6.1

Free interface:

USB 1.1, 2.0 or 3.0 interface
Internet access e.g. for IODD Finder

Screen resolution: 1024 x 768 pixels or higher
Custom (OEM) versions
We are also happy to offer you our TMG IO-Link Device Tool V5.1 - SE as well as our TMG USB IO-Link Master V2 SE for distribution under your brand (OEM version). With an OEM version, your fieldbus, Ethernet or IoT IO-Link masters can also be supported.
We have already implemented a wide variety of business models:
OEM IO-Link Device Tool V5.1 with OEM USB IO-Link Master
OEM IO-Link Device Tool V5.1 for your Fieldbus, Ethernet or IoT IO-Link Master
OEM USB IO-Link master for operation with your own software
Please ask us about the possibilities and conditions.
IO-Link Device Tool V5.1 – Option IOLS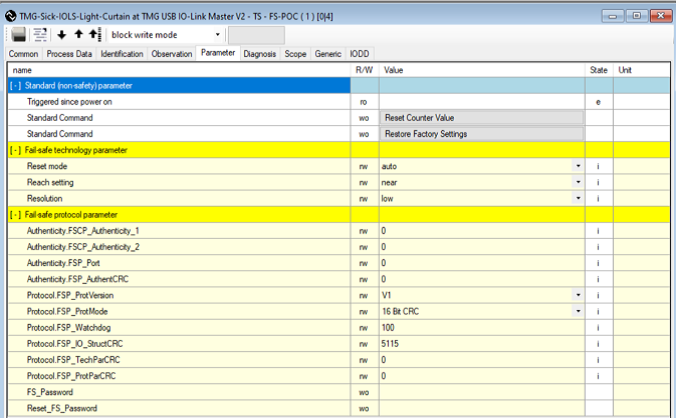 We offer an option package with the support of IO-Link Safety pre-parameterization and Commissioning Mode.
This contains the following features:
IO-Link Safety Device Catalog
Safety process data and parameters highlighted in yellow
Protocol parameters CRC Check
Device Tool Interface (DTI) für IO-Link Safety Dedicated Tools
The IO-Link safety device can be operated in commissioning mode
Sicheren Ausgangsdaten können geschrieben werden um die Safety-Funktionalität testen zu können
IO-Link Safety Extension for the IO-link Device Tool V5.1 - SE
License key (must be activated via the TMG portal)